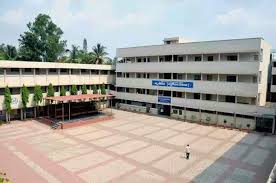 The New College, Kolhapur has been established on 15th June 1971, with Arts and Commerce faculties and Science faculty in 1975. The New College is affiliated to Shivaji University, Kolhapur .The New College, Kolhapur has got recognition by UGC under section 2(f) and 12B on 30th April 1976. The New College, Kolhapur has been accredited by NAAC on March 2021 and has acquired A+ grade. The New College, Kolhapur is situated in the heart of the city about 2 Km away from famous Mahalaxmi Temple. Ours College is multidisciplinary with Arts, Commerce, Science, IT and Management faculties. The College provides traditional as well as professional courses. The College has stated B.C.S. in 2001, B.B.A. in 2007 and B.C.A. in 2008.
Tradition & Goals

The college aims at complete physical, intellectual and personal development along with students academic progress in accordance with the rules of the university and the government. The ultimate aim is to turn them into a highly cultivated and cultured citizens so as to help them to face the challenges of future.
Merit

The college has been granted permanent affiliation on the basis of the constant results of the university examinations, scholarships awarded and the prizes won. The directors of the parent institute and all the constituents of the college try to maintain consistency of high academic standard and take pride in it. More than 95% students pass out in the university examination almost every year. The students of this college have been winning a considerable number of scholarships and prizes awarded by the university. About 250 students succeed in winning the scholarships given by the Government of India, the State government and the Z.P.. About 100 students secure admission every year to medical and engineering colleges. Hundreds of students of this college have so far been admitted and have completed their academic courses from UDCT and IIT. The students of this college have shone themselves in sports, art and literature. They have won prestigious "Shiv Chhatrapati Awards" and have also won State and Sahitya Academy Awards. Some of the NCC cadets have been selected from time to time to participate in the Republic Day Parade. A good number of them have made a mark in the debating and elocution competitions organised by number of institutes over the years.
Donations

The college admits students in accordance with the guidelines and the rules laid down by the university and the State government and does not accept donations in any form from the students or their parent.