Mission:
To provide effective and efficient library services by applying the latest information technology.

Vision:
Our vision is to sensitize students to ethical, social and cultural values to make an enlightened nation and strive for mass welfare and happiness through spread of education.

Goal :
To develop reading habit among the student.
To introduce & provide new services revitalize the existing services by providing faster access to resources by overcome the space and time barriers.
To encourage the space and time barriers.
To improve the efficiency of library function.
Introduction:
Education, a medium of great change, ensures a development in educational, social, economical and cultural fields. As well it in influences all aspects of human life enabling each and every body develop one's personality, character and professional career.
Educational institutes play a vital role in the comprehensive development of human society. Shri Prince Shivaji Maratha Boarding House, Kolhapur, is one of the most prestigious institutions in the Western Maharashtra. Many schools, colleges, and professional colleges are successfully run by this institute.
On 1st June 1971, The New College, Kolhapur, was established to provide educational facilities to the students of Kolhapur and many surrounding villages. In the beginning, there were 150 students and a handful of teaching staff. There were only two streams Arts & Commerce. Later in 1974, Science stream was started to fulfill the demands of the society. The New College has accomplished a tremendous success in maintaining the tradition of excellent results in University examination, sports and fine arts. It was possible due to the sincere efforts of the students, able guidance of the teachers and the continuous encouragement of the institution. Today the college has been recognized as a 'Quality College' in Western Maharashtra.
Shri H.T. Aparadh Library:
The library department established on 1st June 1971.The library plays a very vital role in the development of the college. Library provides the best of books which are essential for the development of students and the teachers. Today more than 3000 students, teachers and non-teaching employees avail of the facility of enhancing and updating their knowledge. The UGC has granted a lot of financial assistance in different ways to improve infrastructure and facilities and extensive services.
The library is renamed after a devoted ex-student and life member of Shri Prince Shivaji Maratha Boarding House, Late H.T. Aparadh to commemorate his grand services by the Institution.
The College had a three  storey spacious and separate library building. It included spacious and separate study rooms for boys, girls and faculties. It had stack room, periodical section, administration section and service area, special reference section Rare book section, Internet Section, Binding, Repairing section, Reprography section,
There is sufficient number of cupboards to accommodate books and journals. The reprography facility is available in the library. The library is computerized and also interconnected to other colleges in the city as per suggestion of the peer Team. The facility of multimedia and internet is also available in the library.

Five Laws of Library Science:
Books are for use
Every reader his / her book
Every book its reader
Save the time of the reader
The library is a growing organism
Aims of the College Library:
To develop collection of reading material useful for various courses.
To provide various library services and facilities to her reader.
To preserve and conserve the collection of reading material in the library.
To support parent institution for developing quality of learning and teaching.
To support research activity for its progress and qualitative development.
To inform the student about their careers opportunities.
To assists the student to prepare for the competitive examination.
Library Advisory Committee:
Every year the college constitutes Library Committee for its smooth function of its services. The aims of this committee are to decide and adopt policies to govern the management and programme of the library. The library to prepare the annual budget, rules and regulations of the library. The Library committee had two meetings in every academic year. The matters such as purchase of books, subscription of periodicals, Newspapers, allocation of budget for the subject wise books etc. are discussed in the meeting.
The members of Library Advisory Committee are as follows:
Principal Dr. V. M. Patil               Chairman
Librarian  Dr. R.P.Adav               Secretary
Dr. B. D. Girigosavi                     Member
Shri. R. D. Dhamakale                Member
Shri. S. R. Sonawane                 Member
Central Library Building:
The College had three storeyed separate library building. Some special feature of the library Building.
Separate Library Building
Total Area of Library Building 16560sq. ft.
Three storeyed  specious  & separate Library Building
Fully Natural Light  & proper ventilation in Library Building
Rain Water Harvesting.
Separate Bore well for Library.
Use Solar light for Library Building
CCTV system for Library Security.
Separate study room for Teacher & Researcher.
Separate study Room for Boys
Separate study Room for Girls.
SeparateSection for Physical Handicapped/Disabled users.
Separate Wash Rooms for Gents and Ladies with different flower
Green Library Concept
LIBRARY –AT A GLANCE (UP TO MARCH 2021)

Total No. of Titles

44,297

Total cost of Books in Rs.

58,51,995

Total No. of Books

75,161

Total No. of Text books

18,531

Total No. of Reference & other Books

56,630

Total No. of COP Books

558

Total No. of Donated Books

961

Total No. of Bound Volume

3,577

Total No. of News Papers

14

Total No. of Journals / Periodicals

46

Total No. of CD'S

61

On line Journal ( NLIST Library Consortium)
(More than 6000+ e-journals &31,35,000+ e-books)

01

Free Educational E – Resources

Available on Portal
A) Preservation & conservation of Reading materials:
a) Daily cleaning, dusting of books.
b) Use chemicals & other medicine for exterminate vermin & insects.
B) Weeding out policy:
a) Out of syllabus books.
b) Damaged books.
Technical Details:
       a) Classification Scheme:
Classification of books is very essential which could be done either by C.C. or DDC (Dewey Decimal Classification) in the library DDC Method is used for classification of books.
         b) Cataloguing Scheme:
The Library use AACR II cataloging scheme for book cataloging.
         c) Issue of Borrow Cards:
Brown card system is used for borrowing & issuing books. In the beginning of the academic year student are given borrow cards. A student can borrow a book on this card for a week.
         d) Other technical details:
After purchasing the book, they are accessed in accession register. The new books are kept on new arrival stand for the users. Then the books are issued to users.

Circulation Section:
For the circulation of books our Library has 'Borrow Card' system. For issuing books we have adopted the open access system for college staff & third year degree student while closed access system for students.

Acquisition Section:
     The acquisition of books is done by Principal of the college, by collecting requisition forms from the Heads of the Departments, Subject Experts and Staff Members. The needs of the students are taken into account by the teachers before placing orders for the books. The books are purchased representatives and vendors, within the frame work of prevailing rules. Acquisition of periodicals is done directly from the publishers by paying their subscriptions.
The mode of payment is through crossed cheques for books or Demand Draft especially for journals and periodicals.
    
Book Issuing for Staff: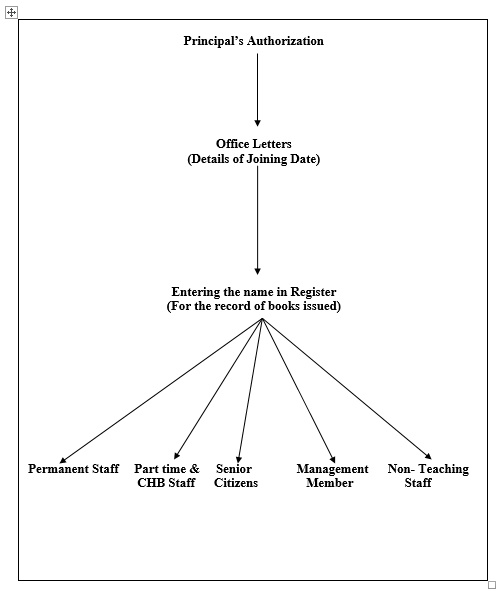 Book Issuing for Regular Students: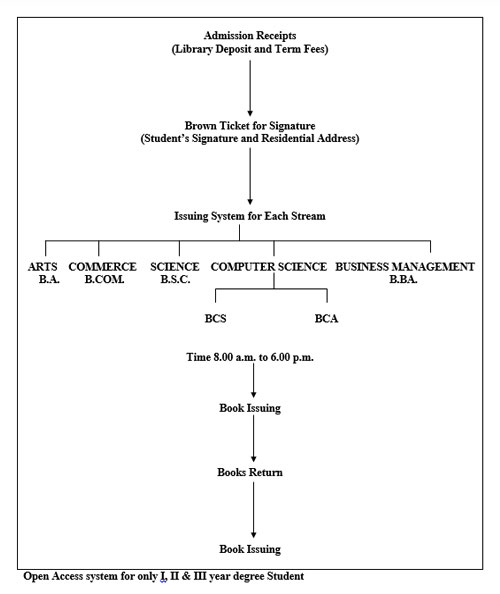 Procedure for Placing Order: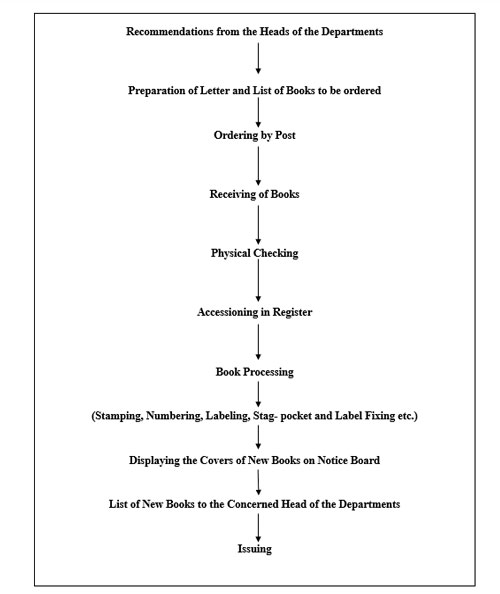 Exhibition of Books:
Book exhibition is organized every year. The aim of exhibition is encourage reading habits & familiarizing with the library collection. Library is an important social institution which leads from "Darkness to Light". We are aware of this fact and therefore to make the students develop interest in books, our Library organizes exhibition of books. Arrival of new books and any other useful information is displayed for the benefit to all. The jackets, covers and wrappers of such new books are kept on the display boards.   
Library Facilities:
The following library and information services, both quantitatively & qualitatively

Borrowing facility:

a)

Each Student   Duration                     

-
-

1 Books
for 7days

b)

Faculty Members
Duration

-
-

20 Books
One academic year

c)

Non- Teaching staff
Duration

-
-

10 Books
One academic year
        
Book Bank Facilities: 

A Book Bank facility is available for students. Books from this scheme are given to students securing a certain percentage of marks and also to the needy, aspiring and financially handicapped students for their use at home.
| | |
| --- | --- |
| Year | No. of Student |
| 2014-15 | 18 |
| 2015-16 | 20 |
| 2016-17 | 19 |
| 2017-18 | 21 |
| 2018-19 | 16 |
         
Internet Facilities: 
A large number of resources are available on the web and students are provided with Eight computer for internet facilities. The internet facility is available in the library for students and faculty. It is free of charge.

Library computerization:
Our college library is fully computerized. The library uses online Vidyasagar software for the library automation. OPAC provided for searching of documents. Used Barcode Technology for Speedy & accuracy Transaction .
The library used Vidyasagar- Easy & Useful Software, this is online library software following facilities/ futures of this software
User friendly software
Online Software
OPAC
Sections of Library
Budget Allocation
Book Selection
Acquisition
Circulation
Book Reservation
Serial Control
Various Reports- Title, Author, Publisher, Subjects, Department, Call No. etc.
New Arrivals: 
New arrivals (books) received and display box.

Suggestion Box:
User feedback is collected on all aspects of library services formally through suggestion box appropriate actions are initiated regularly on the suggestions received from the readers.

Reference service facilities: 
The reference books are made available to the readers during library hours. The personal assistance as guidance and help is provided, if required new readers to make use of the reference book.

Study Room Facilities: 
Study Room facility is available to students and faculty members, during the library house i.e. 7.00 a.m. to 6.00 p.m. During the examination time the period will be extend.

Question Papers Facilities:   The sets of University examination question papers are made available to the faculty and the students from the library.

Library Services:
1. Reprography Service
2. Current Awareness Service
The library brings out the following current awareness services
a. The list of books newly purchased is being displayed for the information of teacher
b. The list of periodicals is also being displaced on the notice board
3. OPAC Service
4. Reference Service
5. Indexing services
6. Clipping services
7. User orientation / information literary
8. e-journal service
9. Circulation Service

Earn & Learn Scheme:
The poor needy & intelligent students are given suitable work in the library and paid to make themselves able to avail of education. In the year 2018-19, six students facilitate this scheme.

Special feature of the library:
a) A library management certificate course of Shivaji University, Adult & Continuous Education Department organized from 2006-07 to till date .
b) Digistisation of college magazine "Kshitij" from 1970-71 to 2018-19
c) Ranganathan Day on the occasion of Ranganathan (Father of Library Science) Birth
Anniversary library celebrated 9th August on 'Ranganathan Day' to know the reader   
about Ranganathan contribution in the field of library science & importance of library.
d) This Library has organized one day National workship jointly organized by The New
College, Kolhapur & SUCLA  College Librarian Association on28/08/2017 for Shivaji
University affiliated college Librarian on 'Modern Library & Challenges to Librarian."
e) On the occasions of birth & death anniversaries of national leaders, great writers, they are paid homage by displaying their prominent works for the benefits of the students.
f) The successful students, sport persons and participants in various competitive examination are appreciated and the new stories with their photographs are displayed in the showcases. 

Guidance to student in preparation of Competitive Examination:
Information about various competitive exams, carrier guidance, Employment News etc. are always display and the awareness is created among the student for preparation of competitive exams.
 
Future Plan:
1 . Digitization of Library.   
2.  To collect various databases (CD- Rom) available.
3.  To make the library as one of the best information center.
4. To adopt RFID Technology.